By Emerald Hills Dental Center, PA
April 15, 2021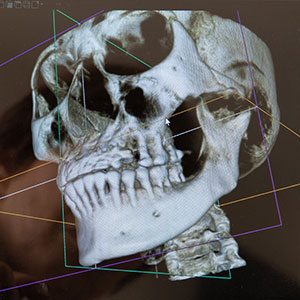 The mouth is a crowded place with nerves, blood vessels and sinus cavities sharing common space with the teeth and gums. Although important in their own right, these structures can also hinder treatment for complex dental situations like dental implant surgery or impacted teeth.
Treating these and similar situations depends on getting an accurate depiction of "what lies beneath." Conventional x-rays help, but their two-dimensional images don't always give the full picture. There's another way—cone beam computed tomography (CBCT).
Similar to CT scanning, CBCT uses x-ray energy to take hundreds of "sliced" images that are then re-assembled with special software to create a three-dimensional model viewable on a computer screen. CBCT is different, though, in that it employs a scanning device that revolves around a patient's head, which emits a cone-shaped beam of x-rays to capture the images.
A dentist can manipulate the resulting 3-D model on screen to study revealed oral structures from various angles to pinpoint potential obstacles like nerves or blood vessels. The detailed model may also aid in uncovering the underlying causes of a jaw joint disorder or sleep apnea.
CT technology isn't the only advanced imaging system used in healthcare. Another is magnetic resonance imaging (MRI), which excites hydrogen atoms in water molecules. This produces different vibration rates in individual tissue structures, which are then translated into detailed images of these structures. Unlike CT or CBCT, MRI doesn't use x-ray energy, but rather a magnetic field and radio waves to produce the atomic vibrations.
But while providing good detail of soft tissues, MRI imaging doesn't perform as well as CBCT with harder tissues like bone or teeth. As to the potential risks of CBCT involving x-ray radiation exposure, dentists follow much the same safety protocols as they do with conventional x-rays. As such, they utilize CBCT only when the benefits far outweigh the potential x-ray exposure risks.
And, CBCT won't be replacing conventional x-rays any time soon—the older technology is often the more practical diagnostic tool for less invasive dental situations. But when a situation requires the most detailed and comprehensive image possible, CBCT can make a big difference.
If you would like more information on advanced dental diagnostics, please contact us or schedule an appointment for a consultation. You can also learn more about this topic by reading the Dear Doctor magazine article "Getting the Full Picture With Cone Beam Dental Scans."
By Emerald Hills Dental Center, PA
April 05, 2021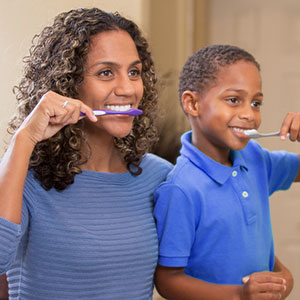 Do you want to give your child something that will benefit them the rest of their life? Then give them the gift of healthy teeth and gums.
Such a gift doesn't come wrapped in a box with a bow on it—you bestow it first by ensuring they receive the utmost in dental care during their formative years. Even more importantly, you instill in them good oral care habits that will protect their dental health for the rest of their lives.
Oral Hygiene 101. Daily hygiene—brushing and flossing to remove disease-causing dental plaque—is the foundation for maintaining a lifetime of optimal dental health. Early on, you'll have to perform these tasks for your child, but the true gift is in teaching them to brush and floss effectively for themselves (and your dentist can help too!).
How's my brushing? There's oral hygiene—and then there's effective oral hygiene. For a quick check, there's a simple test you can teach your child to make sure they're brushing and flossing correctly: Just after they finish, have them rub their tongue all along their teeth. If the teeth feel smooth, they've made the grade! If it feels gritty, though, they'll need to try again. (For better accuracy, you can also purchase a disclosing solution at your local pharmacy that when applied to teeth will reveal any remaining plaque.)
Eating for dental health. Instilling the values of proper nutrition not only promotes your child's overall health, it can also help them have healthier teeth and gums. Foods rich in vitamins and minerals, especially vitamin D, calcium and phosphorus, help build strong teeth and bones. Avoiding processed foods, especially those with added sugar, helps them avoid tooth decay or gum disease.
Mouth protection from injury. As your child grows and becomes more active, they're more at risk for injury to their mouth, teeth or gums. Help them break habits like chewing on hard objects, and insist on them wearing a mouthguard while playing sports. As they enter the teen years, encourage them to avoid "mouth jewelry" that could damage their tooth enamel.
These values and practices are often woven into the fabric of everyday life. They take relatively little time, but they can make a huge impact on your child's oral health future.
If you would like more information on dental care for kids, please contact us or schedule an appointment for a consultation. You can also learn more about this topic by reading the Dear Doctor magazine article "How to Help Your Child Develop the Best Habits for Oral Health."
By Emerald Hills Dental Center, PA
March 26, 2021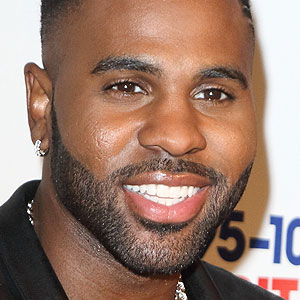 We're all tempted occasionally to use our teeth in ways that might risk damage. Hopefully, though, you've never considered anything close to what singer, songwriter and now social media persona Jason Derulo recently tried in a TikTok video—attempting to eat corn on the cob spinning on a power drill. The end result seemed to be a couple of broken front teeth, although many of his followers suspected an elaborate prank.
Prank or not, subjecting your teeth to "motorized corn"—or a host of other less extreme actions or habits—is not a good thing, especially if you have veneers, crowns or other dental work. Although teeth can withstand a lot, they're not invincible.
Here, then, are four things you should do to help ensure your teeth stay healthy, functional and intact.
Clean your teeth daily. Strong teeth are healthy teeth, so you want to do all you can to prevent tooth decay or gum disease. Besides semi-annual dental cleanings, the most important thing you can do is to brush and floss your teeth daily. These hygiene tasks help remove dental plaque, a thin biofilm that is the biggest culprit in dental disease that could weaken teeth and make them more susceptible to injury.
Avoid biting on hard objects. Teeth's primary purpose is to break down food for digestion, not to break open nuts or perform similar tasks. You should also avoid habitual chewing on hard objects like pencils, nails or ice to relieve stress. And, you may need to be careful eating apples or other foods with hard surfaces if you have veneers or composite bonding on your teeth.
Wear a sports mouthguard. If you or a family member are regularly involved with sports like basketball, baseball/softball or football (even informally), you can protect your teeth from facial blows by wearing an athletic mouthguard. Although you can obtain a retail variety in most stores selling sporting goods, a custom-made guard by a dentist offers the best protection and comfort.
Visit your dentist regularly. As mentioned before, semi-annual dental cleanings help remove hidden plaque and tartar and further minimize your risk of disease. Regular dental visits also give us a chance to examine your mouth for any signs of decay or gum disease, and to check on your dental health overall. Optimizing your dental health plays a key part in preventing dental damage.
You should expect an unpleasant outcome involving your teeth with power tools. But a lot less could still damage them: To fully protect your dental health, be sure you practice daily oral care, avoid tooth contact with hard objects and wear a mouthguard for high-risk physical activities.
If you would like more information on caring for your cosmetic dental work, please contact us or schedule a consultation. To learn more, read the Dear Doctor magazine articles "Porcelain Veneers" and "An Introduction to Sports Injuries & Dentistry."
This website includes materials that are protected by copyright, or other proprietary rights. Transmission or reproduction of protected items beyond that allowed by fair use, as defined in the copyright laws, requires the written permission of the copyright owners.